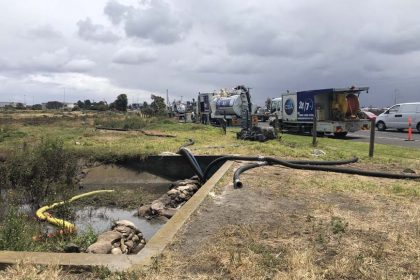 CSA Were engaged by Boral to clean up an oil spill that contaminated waterways in Williamstown and Melbourne's western suburbs which occurred on Melbourne Cup Day .
The spill contaminated a creek known as the Paisley Challis Drain in Williamstown and flowed into a marine sanctuary in Port Phillip Bay that is home to coral and sharks.
The Environment Protection Authority (EPA) issued advice for nearby residents to avoid contact with water in the affected waterways.
Our team responded to this spill quickly and attended the site to assess the situation. It took twenty operators, project managers and site supervisors and over twenty of our vehicles and equipment to successfully clean up the oil spill and contained the pollutant. Our team worked 24/7 on day and night shifts and used heavy vacuum trucks, eductors, hydro excavation units, confined space vans, CCTV equipment, etc to make this happened.
Our fleet of specialised vehicle and equipment and our experience and expertise in emergency incident response projects assisted us in achieving great results with this environmental threat. The CSA team worked on cleaning up road, leaving the site in pristine condition. Our team worked tirelessly for over three week to ensure we contained the situation with professionalism.