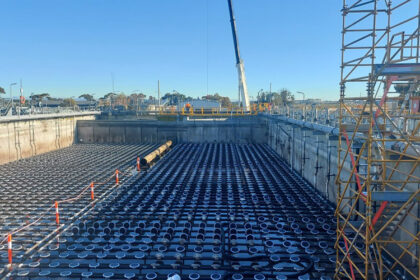 Altona Treatment Plant management contacted CSA to assist in cleaning a large aeration tank which was filled with sewer, silt and rag material.
Our operations team assessed the job and 9 operators were allocated to the job. To vacuum the waste, we deployed 2 combination trucks and 2 heavy vacuum trucks to the site.
500,000 litres of sewer, silt and rag material were vacuumed and transported to the waste disposal facility by our crews. The tank size was 70m x25m x 10m. The entire cleaning operation took two weeks, and our crews completed it to the best of standards.
We have a large fleet of EPA-licensed vacuum tankers and combination trucks, allowing us to deliver high-quality vacuum loading services to a wide range of industries.

From septic tanks, triple interceptors, grease traps, drains, sewers, gullies, and storage tanks, we can collect and dispose of both hazardous and non-hazardous liquid waste, slurry, and sludge. Our combination trucks can be used to collect and dispose of liquid waste. Our vacuum loading services are eco-friendly and limit the amount of waste produced during the cleaning process.