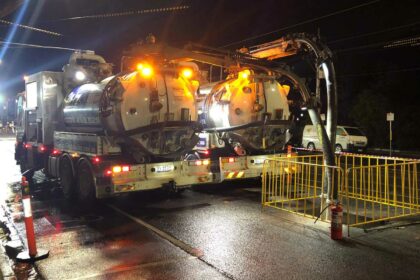 CSA was engaged to assist in a hydro excavation project in East Melbourne as part of an ongoing project. The work involved, Non Destructive Digging and Excavating, waste eduction and waste transportation to the disposal site. two operators were sent to the field with two Hydro Excavation units.
They managed to complete the NDD work and educted the drilling slurry afterwards. They also transported the waste to the disposal site in a timely manner. The type of waste that our operators educted and transported was CAT C. CAT C refers to the soil that has contaminant concentrations exceeding the upper limits for fill material contaminant concentrations specified in the Waste Disposal Categories by EPA. The whole project took two days.
Hydro excavation can be used to pothole and assist in detecting underground utilities such as pipes and cables. This technique minimizes damage and disruption to the underground utilities and is widely recognised as the safest method of excavation. Telecommunications, utility providers and construction companies use NDD for excavation. CSA Specialised Services perform NDD on sewer lines, power cables, gas lines and other important infrastructure in Victoria on a regular basis.