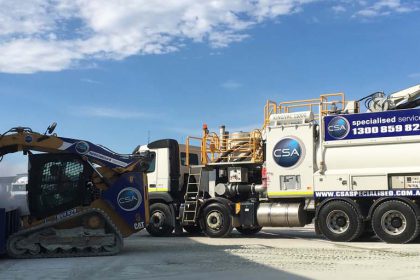 A cement spill caused by a machine compressor failure left a compound in Hallam covered in cement dust. CSA Specialised Services were called for an emergency response clean up.
On Friday, 8th December we responded to an emergency cement spill located in Hallam. It took thirteen operators and seven of our specialised vehicles to clean up the compound and car park. A machine compressor failed, causing a lack of air pressure which released the valves of the cement silo. This caused a cloud of cement powder to cover the surrounding area.
We reached location at 3 pm and continued works into the night, finishing after 1 am. With a long day and night ahead of us, we vacuum loaded and disposed of the contaminated cement dust at an approved EPA waste disposal facility.
It began raining, so we had to act fast before the cement began to clog – if we took too long we risked the cement getting into the truck filters and pumps.
We used our combo and heavy vac trucks to vacuum the cement powder, then we used the skid steer and hook lift to load the overwhelming amount, so it could be transported. Once this was completed, we washed out the compound of any leftover dust. We then reinstated the site to its original conditions with our street sweeper and hot wash trucks.
A few workers who contributed to the project success were Chris Stonard, Jim Taleski, Wan Iyo, Chris Clark and Alex Quinn. Our team, as usual, worked tirelessly to ensure we contained the situation with professionalism and accuracy.