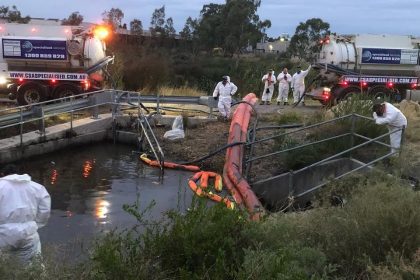 The factory fire in Campbellfield choked surrounding suburbs in Melbourne's north with thick smoke on 5 April 2019.
Melbourne residents have voiced frustrations about environment pollution. It was a major industrial fire and the size was about 5,000 square meters. The fire emitted toxic smoke across the city's northern suburbs.
The fire occurred at a waste management factory Bradbury Industrial Services on Thornycroft Street. Buildings and vehicles were turned into fireballs and chemical drums sent soaring high above the warehouse as the inferno raged for hours.
Bradbury Industrial Services provides storage and disposal services for hazardous and industrial waste and specialises in treating solvent and other waste from paint and related industries.
The fire was finally extinguished four days after it started.
Merlynston creek had been contaminated and we were contacted by Melbourne water to take immediate action. Our emergency team deployed to the scene to minimise impacts of the fire on local waterways. Our team worked around-the-clock over to contain, manage and stop the run-off contaminated fire water from entering the downstream and Merlynston creek. The fast action of our emergency fire cleanup team ensured the majority of the runoff from the fire was contained at the National Business Park Wetland, which minimised impacts to Merlynston Creek and surrounding waterways.
CSA Specialised Services crew also carried out clean-up activities at the wetland and adjacent areas of Merlynston Creek.