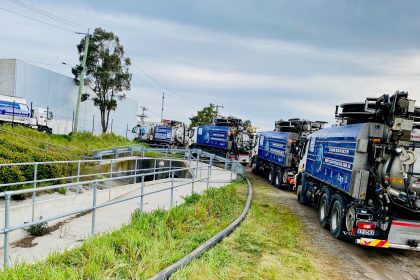 on 9th of August 2020, a recycling factory went up in flames in Sydney Road, Campbellfield and More than 70 firefighters battled the blaze. A community warning was issued for smoke and residents who are sensitive to smoke were advised to shut their windows and doors and turn off heating or cooling systems in the Campbellfield, Coolaroo, Dallas and Somerton areas.
The nearby downstream was in risk of being contaminated and we were contacted by government authorities to take immediate action. Our emergency response team were sent to the scene right after the initial contact. They investigated the requirements to stop the firewater from entering the downstream and explored the possible ways to minimise the impacts of the fire on local waterways. 14 CSA trucks attended the site on day 1 as part of our emergency response.
Our team of experienced and skilled supervisors and operators worked 24/7 to contain, manage and stop the run-off contaminated firewater from entering the downstream. Our immediate response to this incident stopped the majority of contaminated fire water and minimised the impact on the environment.
CSA Specialised Services team also carried out emergency fire clean-up activities at the downstream.