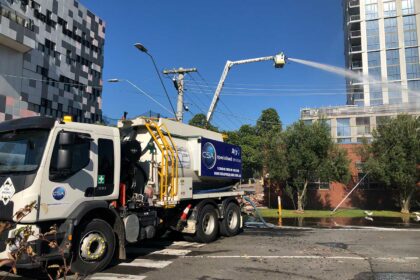 South Melbourne Primary School was forced to close due to an industrial fire in Southbank in early May 2021. Just before midnight, a fire started in a packaging firm on the corner of Farrars and Buckhurst streets
It took more than two hours and roughly 46 firefighters with long-ladder trucks and aerial backup to put out the fire and prevent it from spreading to surrounding houses, including the elementary school.
There were no injuries recorded. but the factory has been partially demolished.
We received a call for an emergency deployment of our crew to the scene. The initial project scope was to pump out the firewater from the area. Twelve operators and two supervisors worked for three days and two nights and fully educted the firewater from the Farrars and Buckhurst street. Our operators then cleaned up the area of debris. The trucks and equipment we used for this job include Combination Units, Eductors and Hydro Excavation units.
Our highly trained crew has dealt with a wide range of emergency incident responses, including industrial fire cleanups, leaky tanks and road traffic collisions involving chemical/oil spills, dumping chemical and dangerous substances, pollution of waterways/drainage systems, and many more.
We have specialised vehicles and equipment designed to perform an emergency incident response and a variety of contaminants, both hazardous and non-hazardous.