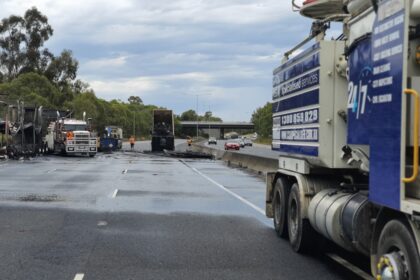 A truck carrying toilet papers burst into flames on Monday, 25th of January 2021. 26 firefighters battled the blaze, including several spot fires
A smoke warning was issued for nearby suburbs and paramedics were deployed to the scene but no-one required treatment.

The freeway was closed both directions between Doncaster Road and Tram Road and by 12:30 pm some inbound lanes had reopened to traffic, but outbound lanes were still closed. The semi-trailer was carrying toilet papers and around 400 litres of diesel which caused a massive explosion.
Our emergency response team were deployed to the scene to clean up the freeway and the fire run-off water. We sent two street sweepers to sweep the freeway and two combination trucks to suck the wastewater out of the drains. Our operators used a skid steer and a bin to remove the bulk rubbish from the freeway. 
They worked around the clock to assist in opening up the freeway and once the freeway was all cleaned, our operators used our gully trucks to suck out another area. 20 operators were sent to the scene to complete the job and the job started around 10 am and finished about 3 am the next morning. 
We are specialised in emergency spills & truck rollovers clean up. Our immediate response to the incidents can assist in avoiding traffic congestion and environmental hazards.