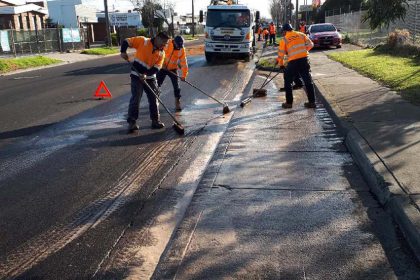 A hydraulic pump burst on a main road in Thomastown, resulting in an emergency response from our team to assist in the clean-up.
Yesterday we received a call at 10:46 am regarding a hydraulic oil spill across a main road in Thomastown.
Our crew of Stephen Howson, Jim Taleski, Petar Stojkovic, John Yu, Morgan Ngatikaura and Steve Stavrou were on the scene.
To clean up the spill we first laid down saw dust to contain and absorb the oil, preventing it from spreading any further. We then used the degreaser which breaks down water-insoluble substances such as oil. At the same time, other workers were scrubbing down the surface to assist the degreaser. The hot wash was used to educt all the oil and the street sweeper cleaned up the road, removing any remnants at the scene.
One of our workers Jim Taleski, described the scene. "The truck had blown its main hydraulic pump hose. The spill was at least a kilometre long."
The hydraulic oil actually caught fire and the driver was initially unaware, hence the spill extending for so long!
Our team worked alongside the fire brigade and the local city council workers of Thomastown to ensure the situation was contained and handled efficiently.
The job was finished within four hours of arriving on scene.