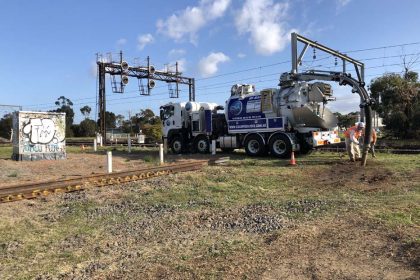 The Victorian Government's Level Crossing Removal project has announced the removal of 50 of Melbourne's dangerous and congested level crossings by 2022, with at least 20 of these removed by 2018. This will bring improved traffic flow, safer paths and better connections for pedestrians and cyclists in Victoria.
The Western Program Alliance (WPA) is currently undertaking early development work for the Aviation Road Level Crossing Removal Project on behalf of the Level Crossing Removal Authority (LXRA). The Aviation Road level crossing will be removed by constructing a road bridge that will elevate Aviation Road over the train lines.
In October 2018, CSA contributed to this big and exciting project by conducting underground utility locating and surveying services as well as Non-destructive excavation for the purpose of service proving.
Our team of subsurface utility engineers, located underground utilities by applying our Radio Detection/GPR locating and survey equipment. Aviation road is a busy area and needs a good traffic management, that is why we used our Hydro Excavation Trucks to safely and efficiently expose existing utilities for survey cause least amount of disruption to the community.
Our experienced operators excavated over 182 underground utility locations within the project footprint by applying our specialised non-destructive digging techniques. They used our purpose-built trucks which are fitted with a high pressure water and vacuum pumps.