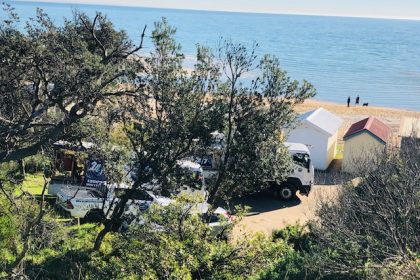 CSA Specialised Services attended a site in Mount Martha for Melbourne Water due to subsidence occurred on July 2019. Our emergency team deployed to the scene and straight away fenced off the area to keep unauthorized personnel away from the area and leave the area safe for personnel on-site.
Our emergency team inspected the stormwater drain with our CCTV survey equipment to identify the cause of the subsidence. Where the drain entered the open channel was 50% blocked and the CCTV inspection showed that there were cracks and fractions of the pipe were missing in places and you could see the voids behind the pipe.
Due to the pipe being 50% blocked near where it entered the open channel, when heavy rainfall, the pipe would fill up and wash out the ground behind the pipe where the crack and damaged section of the pipe were. We removed the blockage and unblocked the drain with our combination truck, jet truck and sucked up the material that was blocking the pipe.
Our specialised team then sent out a confined space entry crew which entered the pipe and patched all the crack and damaged section of pipe with mortor. The confined space crew had also marked out the area's which had voids behind them. The drilled holes in the pipes in these area's and pumped grout in to fill the voids.
Once everything inside the pipe was fixed, we deployed our civil team to dig around the subsidence to make sure there were no more. After this, we backfilled the area with stabilised sand. Then, benched the area and reinstated the area. Also, we installed a new fence as the old one had collapsed when the subsidence occurred.