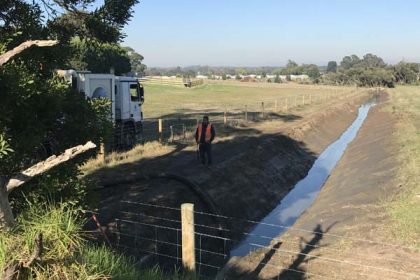 CSA were engaged to unblocking a large SWD pipe in early June 2019. The Open channel drain had not been maintained for many years causing the 900mm diameter SWD pipe under the road to silt up and become 90% blocked.
The drain could not flow to its full capacity causing flooding upstream of this pipe. Our client had to excavate the channel on grade for 150metres so the drain would flow the way it was originally designed. At this point, CSA was engaged to clean 40 metres under a busy semi-rural Road.
Due to the weather being kind to us, we were able to get our Jet/Vacuum Combination unit into the paddock adjacent to the outlet end of the drain. From here we laid out 200m of filler hose and we were set to go. The drain was fully cleared within our customer's time frame and expense.
We provided a full range of inspection and corrective services, including the collection of debris, isolation of pollutants and drain quality improvement.
We at CSA Specialised Services offer a variety of high-quality solutions to clear your blocked drains quickly and efficiently and prevent additional blockages in the future.