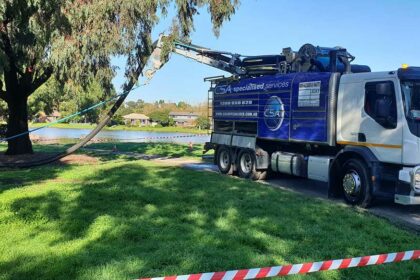 Heavy rains had caused the two lakes to overflow onto the park and water was entering the houses alongside the lake due to the overspill drain being blocked. CSA was contacted to assist in unblocking the drains to get the lakes water levels down to its original state so that the overspill drains would flow again.
Our team of experienced and skilled operators were deployed to the job to unblock the drains and stop the overflown water from entering the houses in the area. Unblocking the overspill drains took about 5 days and 6 to 8 operators attended the job at times. We used two combination trucks that are capable of carrying up to 6000lt of water. The water pump pressure of our combination trucks is up to 2200psi.
Our fully trained operators can unblock drainages quickly and efficiently. Our trucks are equipped with jetting equipment and are capable of clearing and cleaning lines. We use a CCTV drain survey camera to assess the state of drains and pipes and if the drains and pipes are not damaged, our team use high-pressure water jetting to unblock the drains.