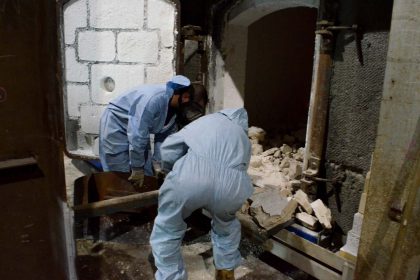 Working in tough and hot conditions, two of our operators undertook a job working around live furnaces operating above 1000 degrees.
Once a year we send two of our operators to Viridian in Dandenong to work on a project down in their glass furnace regeneration basement. The job usually takes about a week to complete and is quite an unusual and specific process as they are working around live furnaces operating above 1000 degrees.
The boys got to Viridian's factory in Dandenong at 7am each morning and before commencing the job were required to undergo a site specific safety induction on the premises. Every day the boys reported to their site supervisor to get a briefing on the day's work before changing into the correct PPE (Personal Protective Equipment). When working in the glass furnace area the operators were working in high temperatures, as inside the regenerator door the air temp is in excess of 500 degrees Celsius. As "safety first" is part of both Viridian and CSA core beliefs, all personnel are required to wear a full Tyvek and a BA (Breathing apparatus, no oxygen) mask with a filter attached to prevent dust inhalation.
Due to the nature of the furnaces and the hot environment, the operators work for 20 minutes on a hatch and rest for as long as required in the cold room provided.
CSA were hired to use our state of the art equipment to clean out the furnace debris and molten slag that have built up in the furnaces over time. To do this our operators, Lee and George, utilised 2 of our dingos while working alongside 2 Viridian employees. When the green light is on and they are cleared to begin work cleaning out the hatches, Lee begins the process by using a dingo with a fork attachment to break up the debris in the hatch, that attachment is then changed to a 'pull back blade', which, like its name suggests, is used to scrape and pull back the loosened debris. Once enough debris has been gathered at the entrance of the hatch, using shovels, the 2 Viridian employees filled the 4 in 1 bucket attachment on our second dingo which was transported to a large bin where all the debris is collected and stored to cool down before being taken off site as EPA approved prescribed waste (Environmental Protection Agency).

The whole process took 5 days with 2 CSA and 2 Viridian employees working together to clean out a total of 14 of ports in the glass furnace. It's an unusual and interesting job for our operators to work on, in tough and hot conditions, but it's a rewarding job as the hard work and results can be clearly seen at completion of the job.