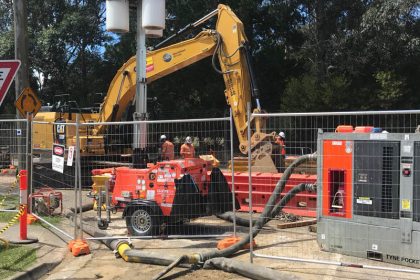 CSA was engaged to assist in an excavation project which consisted of repairing a leak on a 1350mm water main as well as safely removing a 1200mm barrel drain for repairs to be comepleted.
This project was required local Stormwater drains and pits being reconstructed before total reinstatement could be completed. With the weather being a concern pumps were put in place to eliminate any further problems. Our client conducted the vehicle and pedestrian traffic control 24/7.
The equipment that our team applied on-site included Hydro excavation truck, 8-tonne Excavator, 20-tonne Excavator including Vibrating Plate attachment for compaction of backfill material, 10m³ Tipper, Hooklift and 15m³ bins, street sweeper, CSE Van and a 150mm pump for dewatering stormwater drain.
We at CSA Specialised Services can carry out remediation, alterations, relocation and all aspects of repair and maintenance of Pits and Pipes.